Jonkinmoinen flunssa-aalto on kai pyyhkäissyt Suomen ylitse, koska tuntuu että kaikki ovat sairaana. Myös allekirjoittanut täällä näin. Olen aina massaflunssien aikaan ensimmäisenä sairaana. Huono vastustuskyky? Ehkäpä. En ole ihminen, joka tekee uuden vuoden lupauksia. En tehnyt poikkeusta tänäkään vuonna, mutta päätin, että koetan elää edes himpun verran terveellisemmin kuin kuluneena vuonna (yritys nro. 1546, haha). Terveellisemmät ruoat, parempi unirytmi, sekä urheilu nostattavat varmasti matalalla olevaa vastustuskykyä. Toivotaan, että seuraavan flunssakauden aikaan en ole ensimmäisten yskijöiden joukossa.
It's some kind of a flu season in Finland I guess. Everyone seem to be sick. So am I. I'm always one of the first ones who catches the cold around the flu seasons. A bad immunity? I think so. I'm not a person who makes New Year's resolutions. This year didn't differ from that either. Anyhow, I'll try to live healthier than last year. Better food and sleep pattern as well as exercising will help me raise the immunity for sure. That way I'm not going to be sick all the time.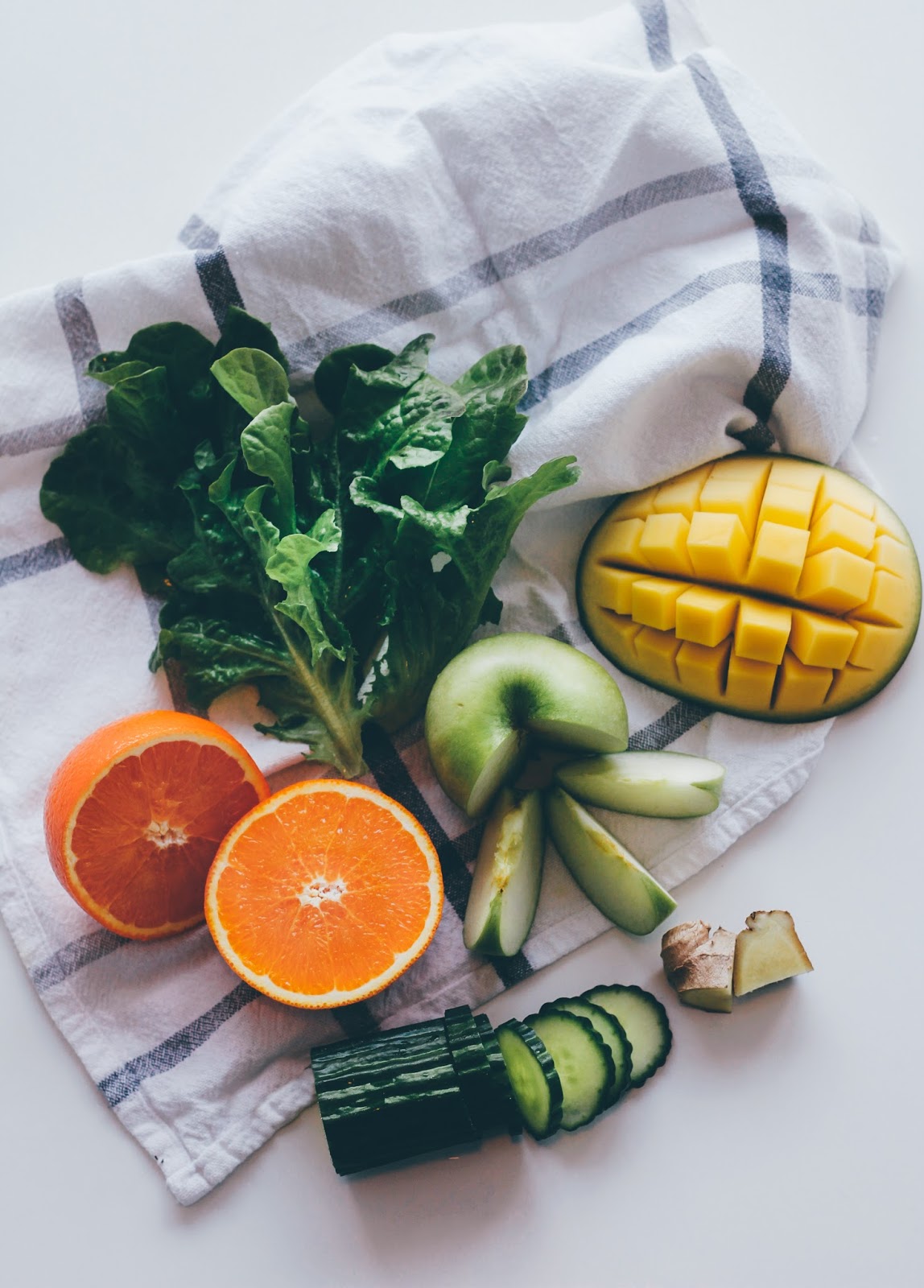 Ajattelin lyödä kaksi kärpästä yhdellä iskulla ja tein eräänä aamuna aamupalaksi smoothien. Terveellisyys taattu, ja smoothien sisältämä inkivääritujaus sekä hedelmistä saatavat vitamiinit taas auttavat flunssaan. Rakastan smoothieita, etenkin kesähelteillä. Mikään ei estä niiden nauttimista myös paukkupakkasilla. Hyvät vihersmoothiet ovat lahja maailmalle. Valitettavasti vihreän jumaltenjuoman voi sössiä melko helposti väärillä raaka-aineilla. Joskus olen saanut smoothien maistumaan ruoholta nesteen muodossa, joskus taas ällöttävän emäksiseltä töhnältä. Tällä kertaa onnistuin täydellisesti! Voin väittää, että vetää myös vertoja omalle lempparilleni, SIS. Delin versiolle. Siispä pistän reseptin jakoon!
I decided to start the morning with a healthy smoothie this one morning. I love all kinds of homemade juices and smoothies. Especially the green ones are a gift to the world. If they are made from the right ingredients. I've had green smoothies tasting like crap sometimes. This time I succeed. No kidding, it was the best green smoothie I've ever had! Hence I'll be giving you guys my recipe.
Kahden hengen Smoothie / Smoothie for two
5-7 lehteä tammenlehtisalaattia / 5-7 leaves of salad
1 mango / 1 mango
1 granny smith omena / 1 granny smith apple
1 appelsiini / 1 orange
Pala kurkkua / Piece of cucumber
Inkivääriä oman maun mukaan / Ginger with your own taste
Nesteeksi appelsiinimehua / Orange juice
Omenan voi heittää sekaan kuorineen. Salaatti kannattaa huuhdella, samoin kurkku. Mangosta ja appelsiinista kuoret pois. Inkiväärin voi lisätä raastettuna, tai pieninä paloina. Kaikki ainekset blenderiin appelsiinimehun kera, SURR, täydellinen vihersmoothie on valmis! Varoitan koukuttavasta mausta.
Peel mango and orange. Chop ginger and apple. Water salad and cucumber. Add all of the ingredients to a blender with the juice. That's it, the most delicious green smoothie is ready! Enjoy!